Over the last 90 days, in order to create buzz and excitement (and hopefully, generate a little Christmas money) around the publishing of my debut novel, "Incredulity," I've found myself in a wonderful land of all of my craftiness! Inside the pages of "Incredulity," you'll find food, jewelry and art, which, of course, are just some of the things I love to create. How wonderful that I get to talk about the things I love, and through God's gifts, I've been able to breath life into the words on the pages. I've learned so much about the book business, with all of the nuances of marketing to the right readers for your genre. There is so much to learn, but I'm enjoying every single minute of the triumphs and challenges of this amazing new career. I thought I'd share a few things that have helped me continue to be excited about this journey, and in the process, have brought smiles and a little inspiration to anyone who has crossed my path. It's not an easy chore to stay positive, but it's necessary if you want to continue to take the next steps toward your dreams. Bringing life to your characters outside the pages of a book requires talking about them as if they were real, and creating a sense of family, bonding with your readership. That's the first, most important thing, in my mind, that an author should achieve; a group of readers who can't wait to hear about what you're going to do next. This requires an out-of-the-box personality, which suits me well. So how do I bring life to my characters? By re-creating some of the things in the book. This tactic isn't new. Disney does it, along with a whole host of movie marketers. They know that they're creating a brand. Just how much Mickey & Minnie, Star Wars and Iron Man merchandise do you think is on the planet? I wouldn't even venture a guess, but in the billions, for sure. So although "Incredulity" is just in the beginning stages, I decided to follow the "brand" principle, which seems to be working. There's lots of wine drinking by my characters, Dom and Callie, and the perfect little trinket to give away with my in-person signings was a wine glass charm. Here's a photo. Simple, not time-consuming, custom and something people are loving.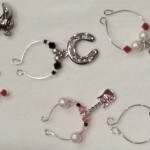 I had a gazillion beads just sitting around the house, waiting for a new project, and these were perfect for the book.  Wine glass charms aren't something that people normally buy for themselves, and so it seems to be a great little trinket to give away with the book.  As a matter of fact, one person had already bought the e-book and wanted the charm so much that she purchased the paperback!  How cool is that!? The next item was related to food.  Callie baked a cake for her amazing cowboy, Dom, in the book, and people began to ask me if it was a "real" cake.  Yes, of course, it is!  I had a baking business in my recent past, and this cake was a "real" hit at a few events.  So I decided to bake the cupcake version for a local book signing, cowboy-themed, of course!  Another huge hit that didn't cost anything except the ingredients.  Here's a photo of those…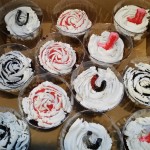 Fast-forward a few weeks, where the next crazy idea came to me.  What if I designed a necklace for a giveaway at my homecoming book signing?  You guessed it.  The necklace happened, and the bookstore did the drawing and announced the winner after I left.  Funny thing… my best friend that I was staying with actually won!  Yes, she insisted on coming to the signing and buying a signed copy, because she's just that sweet.  But what are the odds that she'd actually win the necklace?  She seriously needed the joy, having lost both parents within seven weeks and this is the first Christmas without them.  Just below is a photo of the necklace…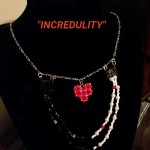 Now, nothing I'm doing is amazing.  I'm not super talented at any of my crafts, and I don't sell them, but they are making my characters jump off the pages and continue to be in the minds of the readers.  It's inspirational to me to hear the kind words, and it's inspirational to the readers to feel excitement from an author about their project. Moving on to just last week, I'm not sure why I decided to do this, but I don't usually question the things that come to my brain if I feel the need to be creative.  The champion of cowboy romance, Dom, gave Callie a series of unique gifts in "Incredulity," one of which was a pair of red cowgirl boots.  I splurged and bought myself a red pair for my book launch in October.  And I actually got on a horse for the first time, boosted up by a REAL cowboy!  Yes, because of my excitement over the launch, my phone call to a ranch resulted in a pro cowboy appearance, along with Chico, a gorgeous and sweet horse, brought by a brand-new friend, his owner.  My characters  also love watching the sunsets in beautiful places… which brings me to the next couple of photos.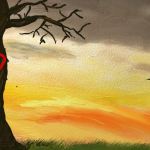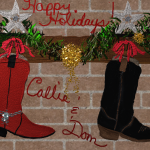 Enter new pen tablet ($79) with free Artrage software, and voila, more for readers to talk about.  Book 2 is in the works, and my characters are throwing a Cowboy Christmas party… which leads to my latest promo for the new book; Callie's free recipes for the holidays for all of my mailing list subscribers.  Someone called this a magnet.  I just call it a whole lot of fun, for both me and my readers.  They're getting to know me and my characters at the same time, and we're both enjoying the process.  If you'd like to subscribe to my mailing list, just sign up at the bottom of the post to get the first recipe in the series, Callie's Cowboy Keeper Dip.  There will be several over the holidays, delivered right to your inbox. I hope you've found this blog to be inspirational, if you're a writer.  If you're a reader, just know that self-published authors work very hard to craft their writing, market and get it to the right readers.  Many of us don't have a huge budget, but we have a huge desire to entertain, educate, bring joy to your lives.  The world needs every ounce of joy we can squeeze out of it, right?